8th Apr 2020 - 10:45
Image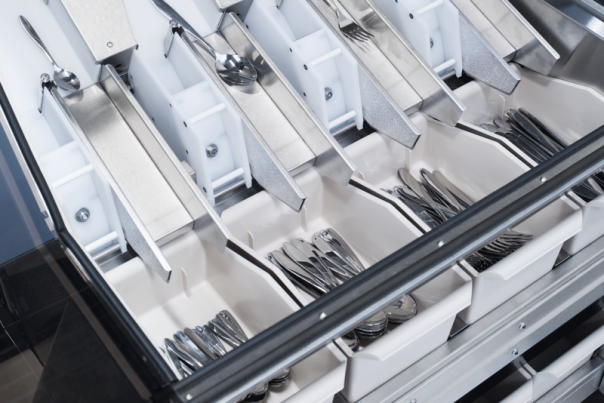 Abstract
Warewashing specialist Wexiödisk is launching in the UK its automatic cutlery sorter, the ACS-800, which has been designed to help operators improve hygiene standards.
David Glover, UK & Ireland country manager at Wexiödisk UK, says:  "Many public sector and B&I venues operate a part self-serve or canteen-style catering regime which involves the customer picking up their own cutlery, hence why Wexiödisk's hygiene-led ACS-800 is important, allowing operators to easily remove all points of human contact with the cutlery before being picked by the customer."
"It minimises the need for kitchen porters to touch cutlery thanks to Wexiödisk's clever logistics system, with a buffer band and sorter, which together work to automatically transport clean cutlery into a unique sorter which can be pre-programmed to separate up to 3,600 pieces of mixed cutlery per hour.
"Caterers can guarantee optimal cutlery hygiene standards, particularly within public sector venues such as schools, universities and hospitals where the pupils or staff members or visitors themselves will be the first to touch the cutlery in the sorting box, after it has come out of the dishwasher.
"As well as scoring on a hygiene front, it also scores from a time-saving and improved working environment point of view, as it eradicates the laborious requirement of sorting cutlery by hand."
For more information visit www.wexiodisk.com/en.