19th May 2021 - 08:15
Image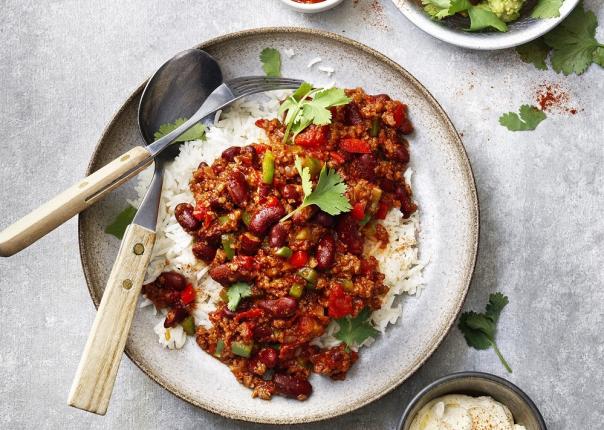 Abstract
A hearty veggie chilli recipe even meat eaters will admit it tastes heavenly. Our incredibly versatile GARDEN GOURMET® Vegan Mince allows you to enjoy the flavourful plant based meat in its best company: gently fried onion, peppers, celery, garlic and the finest spices. Add the white rice into the mix and you've got a new staple comfort dish – the plant based chilli putting all your vegetarian ingredients to good use.
Ingredients
Serves 10
GARDEN GOURMET® Mince 800g
Olive oil 1½ tbsp
Onions, finely chopped 2
Red peppers, finely chopped 2
Green peppers, finely chopped 2
Sticks of celery, finely chopped 2
Garlic cloves, finely chopped 5
Ground cumin 2 tbsp
Smoked paprika 1 tbsp
Red chilli, finely chopped (optional) 2
MAGGI® Rich and Rustic Tomato
Sauce 2 x 400g cans
Kidney beans in unsalted water,
washed and drained 2 x 400g cans
MAGGI® Vegetable Bouillon 20g

TO SERVE
Uncooked rice 450g
Reduced fat soured cream (optional) 150g
Guacamole 150g
Fresh tomato salsa 150g
Preparation method
• Heat the oil and fry the onion, peppers, celery, garlic, cumin, smoked paprika, vegetable bouillon and chilli, (if using) for 5 minutes until softened.
• Add the tomato sauce and kidney beans and cook for 10 minutes.
• Cook the rice according to the pack instructions.
• Meanwhile stir the frozen mince into the chilli sauce and heat through for 5-6 minutes.
• Serve the chilli with the rice and add your toppings – soured cream, guacamole and salsa.