21st May 2021 - 07:01
Image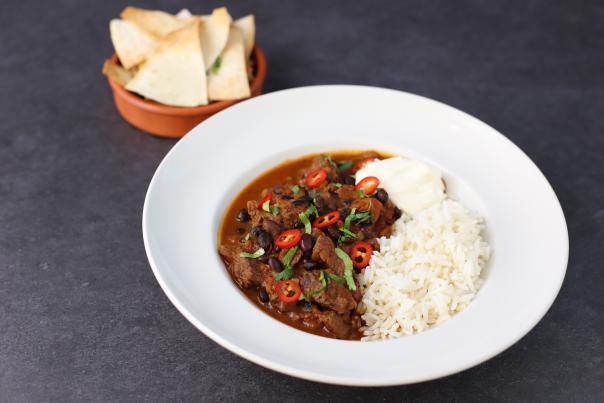 Ingredients
Serves 10
225g Dried black turtle beans, soaked overnight (Future 50 foods)

100ml Vegetable oil

1kg Chuck steak, diced

150g Onion

50g Knorr Professional Garlic Puree

20g Chipotle chilli paste

30g Jalapeño chillies

10g Ground cumin

10g Paprika

7g Chilli powder

400g chopped tomatoes

800ml Water

10g Knorr Professional Concentrated Beef Bouillon

10g light muscovado sugar

4g Dried oregano

6 fresh bay leaves

500g long grain, easy cook

200ml soured cream, to serve

15g Coriander
Preparation method
For the turtle beans:
Drain the black beans then pour into a saucepan and cover with fresh cold water.
Place on to a medium heat and bring to the boil then reduce to a simmer and cook for 50 minutes until tender then drain and set aside.
For the Beef:
Heat half of the oil in a saucepan then brown the beef in batches and set aside.
Peel and dice the onions then cook in the remaining oil for 15 minutes until soft and caramelised.
Add the chipotle paste, jalapeños, ground cumin, paprika and chilli powder, then cook for 1 minute.
Return the beef to the pan with the chopped tomatoes, sugar, dried oregano, bay leaves, water and Knorr Professional Concentrated Beef Bouillon then simmer gently for 2½ hours.
Add the cooked beans to the pan and simmer, uncovered, for a further 20 minutes until the liquid has reduced to a sauce and the beef is tender.
To serve:
Cook the rice and spoon into a serving bowl.
Taste and adjust the seasoning of the chilli, if necessary, then remove the bay leaves and pour into a serving dish and garnish with the chopped fresh coriander.
Serve with sour cream on the side
For more meat free recipe inspiration visit https://www.knorr.com/uk/cheatonmeat.html