21st May 2021 - 07:56
Image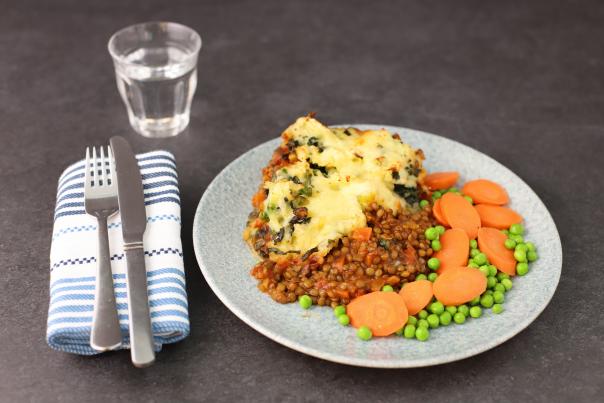 Ingredients
Serves 10
1.2kg Maris piper potatoes

100g Peas

50g Stork

100g Spring onion

150g Kale (Future 50 Foods)

50ml Semi skimmed, milk

50ml Vegetable oil

150g Onions

350g Carrots

100g Celery

20g Knorr Professional Garlic Puree

5g Rosemary

5g Smoked paprika

800g Chopped tomatoes

300ml Water

25g Knorr Professional Vegetable Jelly Bouillon

400g Puy lentils (Future 50 Foods)

175g Grated cheddar
Preparation method
For the Colcannon Mash:
Peel and dice the potatoes then add to a saucepan and cover with cold water.
Place on to a medium heat and bring gently to the boil and cook for 20 minutes then add the frozen peas and cook for a few more minutes until the peas are tender.
Once the potatoes are soft, drain well then return to the pan to dry out for a couple of minutes.
Trim and slice the spring onion and chop the kale then sauté in the stork until softened then pour in the milk and heat through.
Mash the potatoes and peas roughly then add the warm milk mixture to the potatoes and continue to mash until combined but still chunky. Cover until needed.
For the Shepherd's pie mix:
Peel and dice the carrots, onions and dice the celery.
Heat the oil in a saucepan and sauté the carrots, onions and celery for 5 minutes then add the Knorr Professional Garlic Puree and cook until softened without any colour.
Add the rosemary, paprika, water and Knorr Professional Vegetable Jelly Bouillon and bring to the boil then reduce the heat and simmer for 10 minutes then stir the lentils into the tomatoes and simmer for a further 5 minutes.
To finish:
Preheat the oven to 180°c. 
Spoon the mixture into a pie dish and top with the mash then scatter over the cheese.   
Place into the oven then bake for 25-30 minutes, until the potato is golden-brown.
For more meat free recipe inspiration visit https://www.knorr.com/uk/cheatonmeat.html