21st May 2021 - 07:43
Image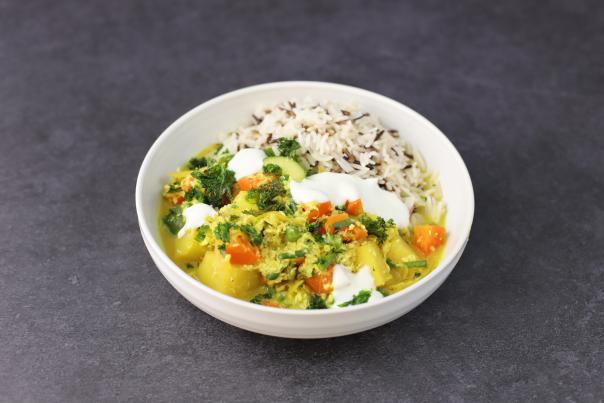 Ingredients
Serves 10
20g Knorr Professional Vegetable Powdered Bouillon
60g Desiccated coconut, soaked in water to just cover
500g White and wild rice (Future 50 foods)
Preparation method
For the Curry base:
Pour the oil into saucepan and place on to a medium heat.
Peel and slice the onions and split the chillies then add to the pan along with the cumin seeds.
Cook for 10 minutes or until the onions are soft and beginning to colour.
Peel and dice the carrots and potatoes then add to the pan along with the turmeric, water and Knorr Professional Vegetable Powdered Bouillon then cover the pan, reduce the heat, and cook, stirring often for 15 minutes.
Cut the cucumber in half and scoop out the seeds then cut into 1cm pieces and cut the green beans into thirds then add to the pan then cover and cook for a further 5-10 minutes until all the vegetables are tender.
To finish the curry:
Peel the ginger and trim the spring onions and add to the blender along with the soaked coconut with its water then blitz to a smooth paste.
Pour into the curry and add the peas and curry leaves then cook for a further five minutes, stirring thoroughly then remove from the heat and stir in the yoghurt.
Cook the rice then place into a serving bowl and place on to the counter alongside the curry.
For more meat free recipe inspiration visit https://www.knorr.com/uk/cheatonmeat.html