19th Nov 2015 - 12:26
Image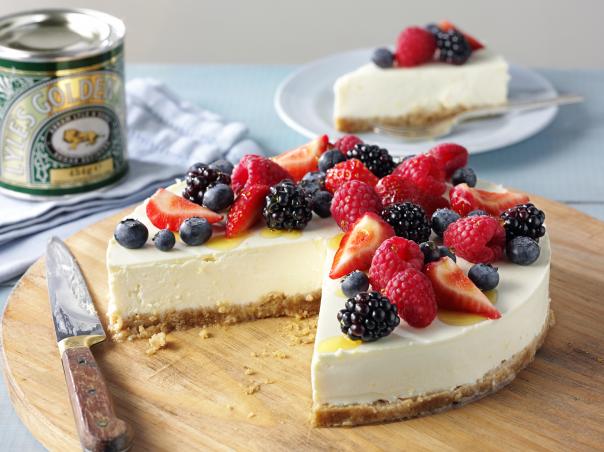 Soft and creamy top, with a crisp biscuit base. This luscious lemon cheesecake gives you the best of both worlds – and it doesn't take a lot of cooking. Best made and served on the day.
Ingredients
Base
175g (6oz) digestive biscuits
95g (3½oz) unsalted butter
1 tbsp Lyle's Golden Syrup
Cheesecake
740g (1lb10oz) mascarpone
100ml (3½floz) lemon juice, about 2½-3 lemons
2 lemons, zested
40g (1½oz) Lyle's Golden Syrup + extra to drizzle
40g (1½oz) Tate & Lyle Fairtrade Golden Syrup Cane Sugar
Decoration
225g (8oz) mixed berries – hulled & quartered strawberries, raspberries, blackberries & blueberries
Lyle's Golden Syrup, to drizzle
Preparation method
1. Break the biscuits into large pieces, then blend or crush in a plastic bag with a rolling pin – you are after fine crumbs. Pour them in a bowl.
2. Pop the butter and Lyle's Golden Syrup in a small pan until melted, then pour over the biscuits and stir until combined. Spoon into a lightly buttered, loose-bottomed tart or sponge cake tin 22cm (9") x 3.5cm (1½") deep. Press out to make a level base – then let it chill while you make the topping.
3. Mix the mascarpone, lemon juice, zest, Lyle's Golden Syrup and the Golden Syrup Sugar together in a bowl until smooth. Carefully spoon the mixture over the biscuit base, smoothing the surface. Return to the fridge and chill until firm.
4. Remove the cheesecake from the fridge about 15 minutes before serving so the crust can soften a little. Lift the cheesecake out of its tin then use a flat-bladed knife to remove it from the base and get it onto a plate.
5. Get creative – arrange the fruits decoratively on top, drizzle over a little Lyle's Golden Syrup and serve. Lovely.