18th May 2021 - 09:25
Image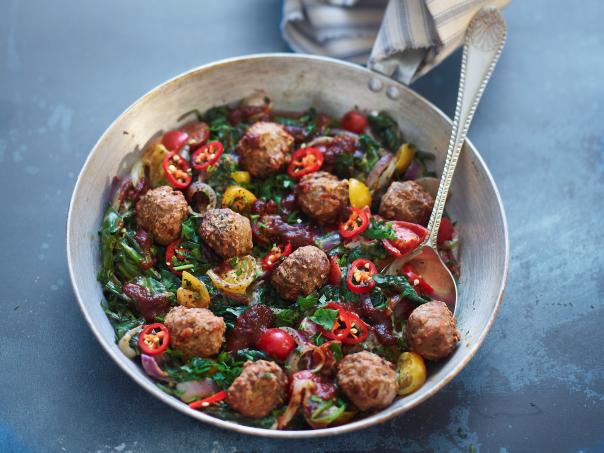 Ingredients
Serves: 2 people, multiply ingredients according to your requirements
12 Meatless Farm Meatballs
1 Brown onion (sliced)
2 Sweet peppers
4 Garlic cloves
2 tsp Smoked paprika
½ tsp Caraway
1 tsp Cumin seeds
1 tbsp Harissa spice
5 ripe vine tomatoes (chopped)
100g Baby spinach
Tahini dressing
2 tbsp Tahini
1 Garlic clove (crushed)
Splash of white wine vinegar
3 tbsp Water
½ tsp Sea salt
1 tbsp Rapeseed oil
Preparation method
In a pan add a couple of tbsp of oil, over a low heat fry the cumin, caraway for 30secs then add the onions, pepper, season with salt and cook for 5-10mins quite slowly stirring regularly. Add the garlic and cook for 1min, then add the tomatoes, smoked paprika and harissa. Top up the pan with a splash of water and cook for 15mins.
Make the tahini dressing. Blitz all ingredients with a stick blender until smooth, you may need to add more water if it feels too thick (tahini can take a lot of water to loosen). Check the seasoning, it should be quite zingy from the vinegar and have a little heat from the garlic. It should also be smooth and creamy. Set aside until later.
Place the meatballs on a baking tray, roast in the oven at 180C for around 12mins. Or place in the shakshuka and bake in the oven or cook on the stove.
In a separate pan, wilt the baby spinach in a little olive oil.
When you're really to serve add the spinach to the shakshuka and mix well.
Time to plate up! Tip... To plate, tip the shakshuka into serving dishes or serve in the pan it was cooked in. Top with loads of torn mint and parsley and drizzle over the tahini dressing.
For more inspiration go to www.meatlessfarm.com/recipes or get in touch directly on foodservice@meatlessfarm.com