25th Feb 2021 - 14:42
Image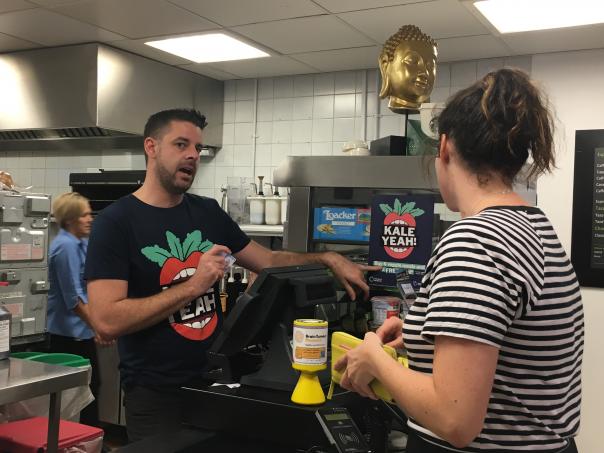 Abstract
The Kale Yeah! pilot ran for two terms from September 2018 to May 2019. All university catering outlets took part. For every 6 veggie or vegan main meals or sandwiches bought, students earned a free meal (which could be veggie, fish or meat).
There were no rules as to which purchases counted towards which reward, so, for example, 6 sandwiches could earn a free main meal. Customers swiped their existing electronic loyalty card at the tills to log and redeem their rewards. Initial IT support was needed to programme the tills. The head of catering championed Kale Yeah! from the start, his support was key to implementing the scheme and enthusing front-line staff. Eye-catching posters and stickers were displayed in cafés and around the university site, and the university also promoted Kale Yeah! via social media and to the press. Front-line staff wore Kale Yeah! t-shirts, which were so popular with students that 50 more were produced and sold via the cafés.
 
Before Kale Yeah! was launched, chefs attended Forward Food plant-based culinary workshops to gain inspiration on how to create delicious, plant-based meals. This made sure the food that was being incentivised tasted great. Student ambassadors were also recruited to help promote the scheme and collate early feedback.
Results and Impact
Data analysis from the tills showed that take-up of the loyalty scheme increased steadily over time.


Café sales data before and during the Kale Yeah scheme
•    2,776 free meals were earned, equating to 16,656 vegetarian/vegan meals sold through the scheme.
•    1,238 individual users participated in the scheme.
•    Sales of main dishes, breakfasts and sandwiches, as well as hot options (soups, paninis, toasties), all increased.
We carried out an online survey after a term to test awareness of the scheme. It revealed that:
•    4 out of 5 students and staff surveyed had heard of Kale Yeah! and more than half of all respondents knew what it was about.
•    More than half said the scheme would make them more likely to choose a veggie meal.
•    Half of respondents also said that the scheme would make them more likely to eat at a university café.
Student feedback
Café conversations between Kale Yeah! ambassadors and students helped build awareness and provide early qualitative feedback. We learned that students were unclear how to take part in the scheme so we produced a sticker to add to the posters, which said "just scan your loyalty card". This was then incorporated into the editable poster design (which can be downloaded from the Kale Yeah! website).
Key learnings:
•    Great-tasting and exciting vegetarian and vegan dishes are needed on the menu from launch.
•    To make it cost effective, the value of the qualifying purchased products needs to be comparable to the cost of the free reward meal. Some purchases shouldn't be part of the offer eg, hot drinks, sides, a portion of chips, a cupcake/brownie or a dessert.
•    Caterers should plan in advance to reduce the amount of meat purchased and plan menus accordingly.
•    Front-line staff should receive initial training and be kept enthused in order to continue to promote the scheme to customers.
•    A marketing plan is needed to ensure the scheme receives ongoing promotion and the students are kept in touch.
•    Using an existing electronic card system made it easier but a paper version, or one using an app like Magic Stamp, could work too.
•    Kale Yeah! t-shirts proved very popular and could be a source of income.