10th Feb 2021 - 08:46
Image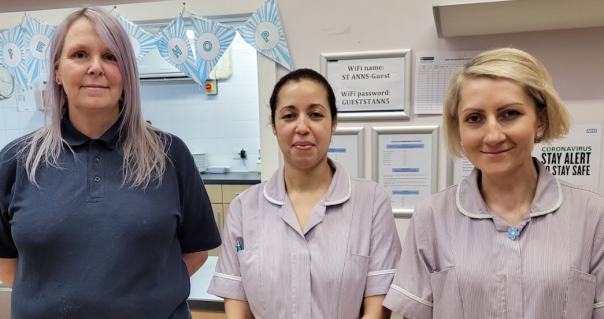 Abstract
Compass Group UK and Ireland used its apprenticeship levy to fund five apprentices at St Ann's Hospice in Greater Manchester.


The levy transfer will fund two apprentice production chefs, two apprentice healthcare cleaning operatives and one apprentice HR qualification all taking place over a 12-18 month learning programme.
St Ann's provides care and support for thousands of patients and families every year from its three sites as well as a range of community outreach services.
Rachel McMillan, chief executive of St Ann's, said: "We are extremely grateful to Compass Group UK and Ireland for supporting the hospice in this way.
"At St Ann's we pride ourselves on providing world-class care to patients and their loved ones, and we can only do that thanks to the amazing team of staff and volunteers that support them.
"These apprenticeships are a great way for us to continue to invest in the development of our teams and help us to ensure we remain an organisation of choice well into the future too."
The apprenticeship levy fund was introduced in 2017 to create long-term and sustainable funding for apprenticeships. Compass Group currently supports over 300 apprentices in its own business but surplus levy funds enable small employers, like St Ann's Hospice, to pay for the training and assessment costs of apprenticeships.
Jonathan Foot, head of apprenticeships and early careers at Compass Group UK and Ireland, added: "At Compass Group UK and Ireland we are dedicated to supporting local people and communities, so we are delighted that we have been able to use our levy to support another business in their vision to create a career pathway for their non-clinical employees.
"An apprenticeship supports individuals to develop the skills, knowledge and behaviours they need in the workplace and provides excellent progression opportunities, as well as improves employee retention – a win-win for apprentices and employers!"