28th Jul 2021 - 08:38
Image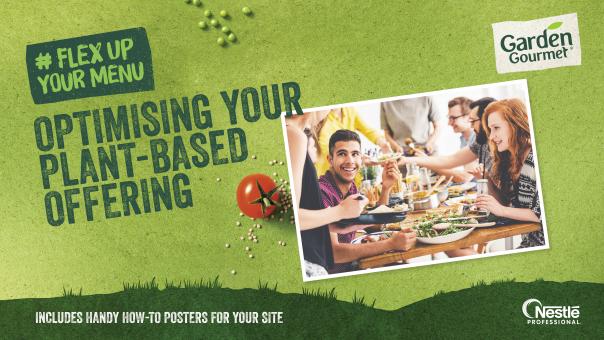 Abstract
Plant-based meat alternative brand Garden Gourmet has partnered with Julie Cleijne from the Sustainable Kitchen Consultants to create a practical toolkit to guide operators on how to 'flex up' their menus to optimise plant-based dishes.
According to a YouGov survey more than two-thirds of flexitarians are actively trying to reduce their meat consumption. Along with advice and insight the toolkit includes printable posters that can be used to highlight plant-based events throughout the year.
Rohini Alam, category manager for savoury food at Nestlé Professional commented: "Research has shown that 45% of meat-eaters aged 25–34 have cut down their meat consumption in recent months. This, coupled with the fact that the number of Brits adopting a vegan diet in 2020 skyrocketed by 40% shows that the demand for plant-based dishes in the out-of-home sector is growing at pace.
"We know lots of consumers like eating meat; they like the flavour and the texture – our products are designed to deliver this same experience. It doesn't have to be a case of missing out if you are opting for tasty meat-free alternatives!"
The toolkit delves into three key areas:
Language on menus: Menu descriptions should be evocative and eye-catching, and above all they should entice the diner into ordering. Too often plant-based dish descriptions focus on what the dish doesn't include, rather than what it does.
Staff engagement: From the chefs making the food, to the waiting staff out front, it's important to remember that if everyone believes plant-based dishes can be great.
Marketing and awareness building: There are plenty of ways for operators to shout about plant-based offers, whether through online groups, across social media, or in-house via pointers towards vegan drinks offers or dairy-free menu items.
Cleijne, founder of the Sustainable Kitchen Consultants, added: "Consumers are increasingly seeing the link between what they eat, their health & the health of the planet, and making conscious food choices as a result.
"Recent research shows only a dedicated subset of consumers are fully committed to having zero animal products in their diet, with more wanting to reduce their intake, rather than fully remove animal products completely - i.e., flexitarian rather than fully plant-based.
"So, it makes good commercial sense for operators to make sure their menu offering can cater to as many customers as possible, with some great plant-based options to choose from."
To download the free #FlexUpYourMenu toolkit for visit: www.nestleprofessional.co.uk/plantbasedtoolkit.