25th Nov 2021 - 07:00
Image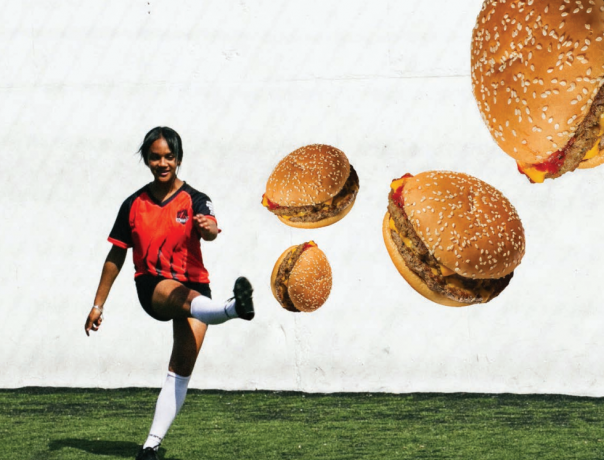 Abstract
A new report by the Children's Food Campaign and Food Active has found the power of UK sport to influence healthier lifestyles is being undermined by a 'constant barrage' of unhealthy food and drink sponsorship deals and advertising.
The report titled 'Kicking Out Junk Food' documents how 2021's 'Summer of Sport' was used by the food and drink industry to flood families with marketing, advertising and sports personality-led promotions for pizzas, burgers, chocolate crisps and fizzy drinks.
Researchers invited 346 parents to share their views:
90% said the marketing of junk food through sport made it harder for them to feed their children a healthier diet food.
86% said Government should create new laws to stop partnerships between junk food brands and sport.
Nine in ten also agreed that grassroots sports and physical activities shouldn't have to rely on food and drink brands for funding.
Key sporting events monitored by the research included the EURO 2020 tournament, English Cricket Board's new The Hundred Tournament and the Tokyo Olympic & Paralympic Games.
Brands named in the report who established deals with sports bodies in order to be associated with sports clubs, tournaments and stars included Coca Cola, McDonald's, Just Eat, Deliveroo, Cadbury/Mondelez, KP Snacks, Papa John's Pizza and Carabao energy drinks, amongst others.
Sports stars are starting to agree with health campaigners and parents on the health of these partnerships after footballer Cristiano Ronaldo removed two Coke bottles during a UEFA EURO 2020 press conference, urging fans to drink water instead.
One of the parents involved in the research said: "It was encouraging to see Ronaldo remove Coca-Cola bottles at a press conference and say 'drink water' and I hope that more sportsmen and women will use their platforms to take a stand in this way."
The report is calling on the Government and the sports industry to take action and kick junk food advertising out of sport. This can be achieved by:
Government to include sports sponsorship in all future healthier advertising and marketing regulations for food and drink.
Sports associations to refuse all further sponsorship deals that include marketing less healthy food or drink brands.
High profile athletes and sports personalities to use their influence to support healthy food programmes and refuse to work with less healthy brands.
Barbara Crowther, co-ordinator of the Children's Food Campaign, commented: "Children should be free to play or watch sport without being deluged with advertising for crisps, chocolate, pizzas and burgers.
"Parents feel very strongly that their children get very mixed messages, and it's shocking to see the scale and range of tactics being played by the junk food industry in 'sportswashing' unhealthy food and drink.
"It's clear that voluntary agreements with the food and drink industry about responsible partnerships with sport are utterly failing, and perhaps it's time for the Government to step onto the field and show junk food advertising in sport the red card."
When parents were asked what effect marketing of less healthy food and drink through sport has on children, the top three impacts were cited as: 'pestering their parents for less healthy food and drink' (81%), followed by 'preferring the brands linked with their favourite team or player' (78%) and 'thinking it is okay to eat less healthy food and drink' (77%).
Sustain believes this is 'particularly concerning' given the recent National Child Measurement Programme results, which indicated a 'significant increase' in levels of obesity in primary schoolchildren.
Report co-author Beth Bradshaw from Food Active, added: "Parents are acutely aware of the impact that these marketing tactics are having on children's food preferences and brand awareness, and the difficulties they present especially in light of the difficulties some already face in feeding their child/ren well.
"What was clear from the parents we spoke to is they are sympathetic to the need for funding sport and physical activity at grassroots and junior levels but believe that current dependency on less healthy food and drink advertising for these revenues is unacceptable – and we wholeheartedly agree."
If you are interested in reading the full report, click on the document below.