26th May 2022 - 06:00
Image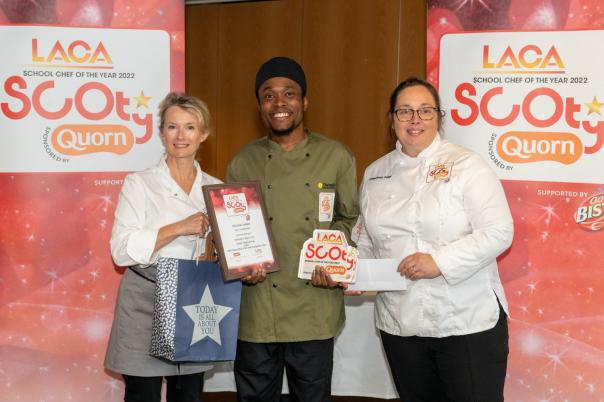 Abstract
After a competitive day of cooking, Chartwells' Raheem Morgan from Torridon Primary School emerged at the winner of the London School Chef of the Year (SCOTY) regional final.
Raheem served up a loaded Quorn savoury waffle in the 'grab and go' class before going on to deliver a Caribbean curried Quorn dish with confetti rice. His dessert of sticky ginger and date cake with a coconut rice pudding foam and spiced apple compote completed the meal.
Speaking after the competition Raheem said: "The inspiration behind my dishes was a take on the real authenticity of cuisines from my Caribbean background, to showcase my Jamaican heritage with a modern twist while maintaining the balance between spices and flavour."
This completes the regional heats that have been held across the country over the last month. A full list of all the finalists will be announced shortly.
Chair of judges, Kate Snow added: "What a heat! It's been incredible to see the competitors create so many dishes using Quorn. It just highlights how versatile Quorn can be."
At the national final, the 2022 national winner will receive a £1,000 cash prize, the 2022 LACA School Chef of the Year trophy and an invitation to a calendar of catering industry events. The national second and third place winners will receive £500 and £300 respectively.
Speaking about the event, Sarah Robb, foodservice marketing manager at Premier Foods, commented: "As proud sponsors of the LACA School Chef of the Year competition, it's been exciting to see the creative ways Bisto and other Premier Foods products have been used in the dishes.
"Our products have been staples in school store cupboards for many years and are all designed to save chefs time and make their working lives easier. The standard of cooking this year has been absolutely fantastic."
The National Final will take place on 6th and 7th July during the LACA Main Event, visitors to the event will be able to watch it live, register for your free entry ticket here.