25th Aug 2020 - 08:30
Image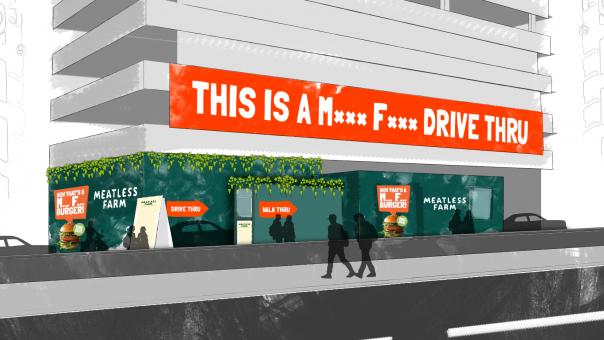 Abstract
Meat-alternative brand Meatless Farm is launching the UK's first plant-based 'drive-through' outlet to showcase plant-based fast food and target lockdown meat-reducers.
Located in Hackney, East London it will have a limited life – running from August 26-31 and open from 11am to 3pm.
The M*** F*** Drive Thru, has been created in collaboration with burger street-food brand Mother Flipper, recreating its classic meaty menu - without the meat.
The menu will feature the juicy 'Mother Flipper x Meatless Farm Cheeseburger' and 'The Greta', an eco-burger with aubergine candy bacon.
Meatless Farm's free-flow mince and sausages have also been used in the menu development, offering customers loaded dirty fries and the McBluffin, a plant-based take on the iconic breakfast food.
Jade Dodds, foodservice and QSR director, said: "Our M*** F*** drive-thru is about showing plant-based fast food at its best and that it can be more than a lone burger switch – there's plenty of room for menu innovation as consumers become more discerning and demand increases.
"Off the back of our recent controversial M*** F*** campaign, the Drive Thru aims to show foodservice just how speedy and taste driven plant-based food can be."
She added that the initiative is part of Meatless Farm's controversial M*** F*** campaign aimed at the one third of Britons who say they switched to a more plant-based diet during lockdown.
Recent research conducted by the firm indicated that 35% of meat-eaters say they have eaten more plant-based food throughout lockdown and the trend shows no sign of slowing. With 90 seconds per patty, the Drive Thru aims to show operators just how speedy but also delicious plant-based food can be.
The British company continues to work with operators to develop menu offerings and expand its portfolio of plant-based products which now includes; ready to heat Spaghetti Bolognese sauce, cannelloni, meatballs, burgers, sausages and free-flow mince.
For more information or samples visit: https://meatlessfarm.com/food-service/