6th Mar 2020 - 09:07
Image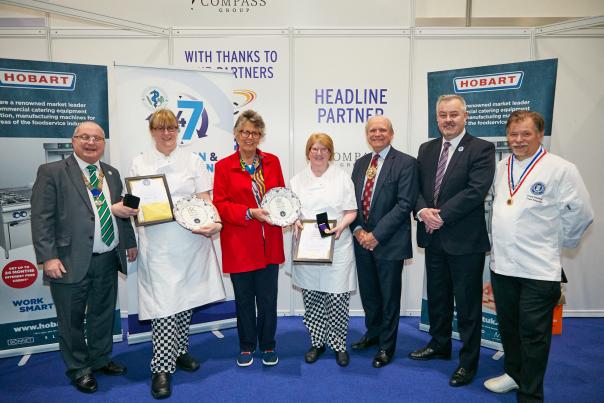 Abstract
Hospital chefs Lorraine Shopland and Amanda Hall have been awarded Gold and 'Best in Class' for the two-course meal they cooked to win the Hospital Caterers Association (HCA) annual 'best chef' competition.

Staged in the Live Theatre as part of the HRC Salon Culinaire, this year's final involved six hospitals with two chefs each, who were challenged to cook a two-course hospital meal in 60 minutes. The budget they had to work with was just £2.60.
The pair, who work at Musgrove Park Hospital in Taunton, also won the Hygiene Award.
They said: "We are both shocked, stunned and amazed that we have achieved gold best in class. We are also delighted to be walking away with the Hygiene award.
"At our hospital we have been hot on hygiene levels and making sure all staff understand the right procedure in washing their hands."
The winning menu comprised fisherman's pie; sea bass, salmon and haddock in a creamy butter sauce topped with potato, served with vine tomatoes and purple sprouting. The dessert created was a citron syllabub accompanied by fruit berry compote. 
Dishes had to be suitable for NHS patients with reduced saturated fats, nutritionally balanced and sustainable. 
Panel judge Prue Leith, commented: "To feed a hospital patient is not an easy task but these guys who have entered this competition have managed to retain their enthusiasm and innovation and desire to serve good quality food for patients which is not always easy to do in an environment where customers don't want to be there. 
"I am full of admiration for these guys and to be a hospital chef is very noble in the first place. These people are our heroes."
The judging panel also included head of culinary at Wembley Stadium Harry Lomas, and other Craft Guild of Chefs members Brian Turner, Kevin Viner and Nick Wort. 
The competition, sponsored by Hobart Cooking Solutions and The Worshipful Company of Cooks, is an opportunity to put hospital catering on the national stage, demonstrating the constraints hospital caterers' work under in terms of nutritional restrictions. 
The winners will receive a two-night stay at the HCA's annual Learning and Development Forum taking place on 2 & 3 April in Liverpool, where they will showcase their dishes in the live theatre to over 400 hospital caterers and industry dignitary's including HCA President Lord Hunt. 
HRC's Hospital Caterers Association Salon Culinaire competitors are:
Musgrove Park Hospital – Lorraine Shopland and Amanda Hall, Gold Best in Class. 
Midlands Partnership Foundation Trust - Karen Shrehorn and Joanne Wharton, Silver Best in Class. 
The London Clinic – Paul O'Brien and Emmanuel Olubiyi (supported by teacher, Jon Hardy Bachan), Silver Best in Class. 
Royal Freeman, Newcastle - Mark Seales and Jamie Bolam, Bronze Best in Class. 
Aberdeen Royal Infirmary NHS Grampian - Chris McGuile and Robert Salomia, Bronze Best in Class. 
West Suffolk Hospital - James Sumpter and Luke Nobbs, Bronze Best in Class.