1st Nov 2021 - 06:00
Image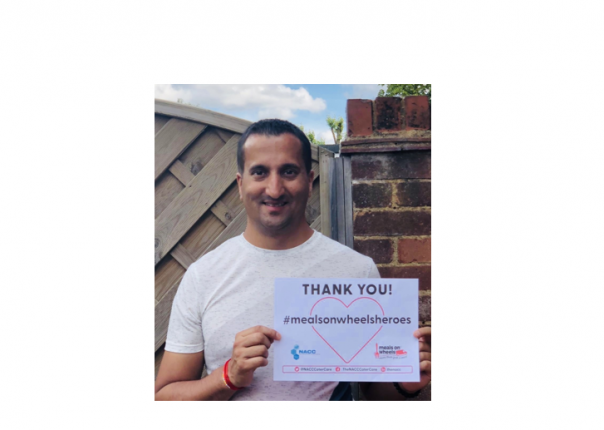 Abstract
The National Association of Care Catering is bringing back the award winning #MealsOnWheelsHeroes social media initiative that shows gratitude to the teams who continue to deliver 'life-enhancing' services against the ongoing challenges of the Covid-19 pandemic.
The NACC is once again calling on everyone- from its members, industry colleagues, partners, associations and friends to local government, politicians, celebrities and the general public– to take to social media to publicly declare their support and gratitude for all Meals on Wheels heroes. 
People are being asked to hold a special thank you poster, have their photograph taken and then share it on social media using the hashtag #MealsOnWheelsHeroes. The poster can be downloaded here.
Neel Radia, Meals on Wheels lead for the NACC, said: "This year, like the last, has seen the Meals on Wheels service still under immense pressure as it serves meals throughout the pandemic.
"We therefore feel that it's only right and appropriate to use Meals on Wheels Week as a platform to show all those involved how grateful we are for their continued hard work and dedication. We encourage everyone to get involved with #MealsOnWheelsHeroes so we can show our collective gratitude.
"At the same time, we'll be highlighting the incredible value the service is having in our communities through our VIP on Wheels initiative. Meals on Wheels is so much more than just a meal and we're very grateful to everyone who has given up their time to take part and share this important message with their networks."
At the 2021 Public Sector Catering Awards the NACC won the Marketing Award for their 2020 Meals on Wheels social media campaign.
Sue Cawthray, the national chair of the NACC, added: "Over the past 18 months, we've seen how Meals on Wheels services have reinvented themselves in the face of adversity. The combination of the pandemic and reducing social care budgets has changed the Meals on Wheels landscape. From this we have seen innovation, creativity and brilliant new ways of working.
"New partnerships between local authorities, providers, charities and hospitality establishments, for example, have ensured continued support where it's needed. We all have a responsibility to learn from each other, adapt and ensure the physical and emotional wellbeing of older and vulnerable people in the community is a priority."