14th Dec 2020 - 10:15
Image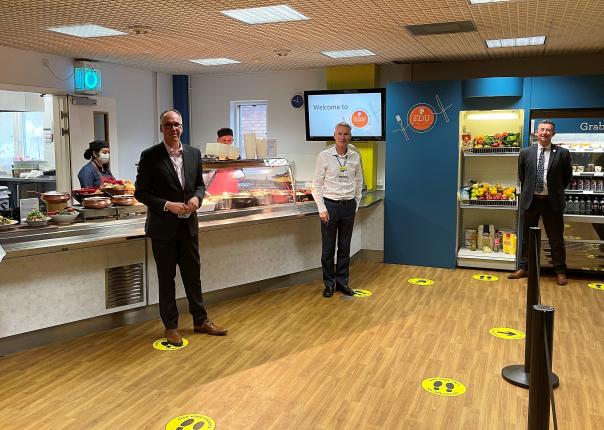 Abstract
Ashford & St Peters Hospitals NHS Foundation Trust has officially unveiled new staff and visitor catering services, as part of a move to offer a long-term food solutions across its Chertsey and Ashford sites in Middlesex.
The services, which include a staff restaurant and three cafes, have been launched across the Trust, giving staff and visitors access to safe, modern and commercially viable areas to rest and refuel across the Trust's two hospitals.
With more than 90% of the food being freshly produced onsite, the Trust is in line to quickly meet requirements set out in the Hospital Food Review - a recent programme launched by celebrity chef, Prue Leith and Phillip Shelley, chair of the Review and a Former Chair of the Hospital Caterers Association.
The new services will incorporate the surrounding community by working with local businesses - sourcing produce where possible.
Post-Covid, the services are expected to serve more than 3,000 staff and 1,000 visitors.
Since a soft launch in September, overall sales of food and products have risen by 50%, with a customer satisfaction scoring 4.7 out of 5.
Launched following a strategic review by Neller Davies, the Trust brought together its estates and facilities, dietetic and clinical teams as part of the development process.
Key objectives focussed on improving food and service quality, valuing staff and improving recruitment & retention, and ensuring a Covid-secure environment.
The services are all being delivered in-house but initially supported by a locally-based contract caterer, Bartlett Mitchell.
The company provided specialist training & mentoring, culinary development, payment apps, and an artisan coffee offer. The move has also created and maintained 26 jobs in-house, bringing back furloughed staff, ensuring no redundancies.
Julian Fris, director, Neller Davies, said: "We are delighted to officially launch the staff and visitor catering offer at the Trust. This project has been a brilliant example of how collaboration between hospital departments and external providers can result in a product which will improves customer throughput, staff motivation and deliver efficiencies for our NHS.
"It is through considered partnerships like this that we will be able to care for our NHS and the people who work tirelessly to look after all of us."
William Britton, assistant director of Facilities Support Services, Ashford & St Peters Hospitals NHS Foundation Trust, said: "I am delighted with how successful the project of bringing the catering services back in-house has been.
"There has been an abundance of catering talent in the market place that has become available to help us make it such a success. The downside being the damage Covid has done to the wider retail catering market with many talented people losing their jobs."
"The challenge for the Trust is to continuously maintain the high level of food being produced and excellent customer service skills being provided. We are training and mentoring all our staff into the new ways of working so that it becomes the normal."
Ian Thomas, chief executive of Bartlett Mitchell, added: "We are delighted to have supported the development of the new facilities. Not only does this collaboration help to provide a fresh and unique catering offer for a hugely important sector of society but it has also helped to create employment opportunities for many people who will have been struggling as a direct result of the economic fallout of Covid-19."