6th Aug 2020 - 06:00
Image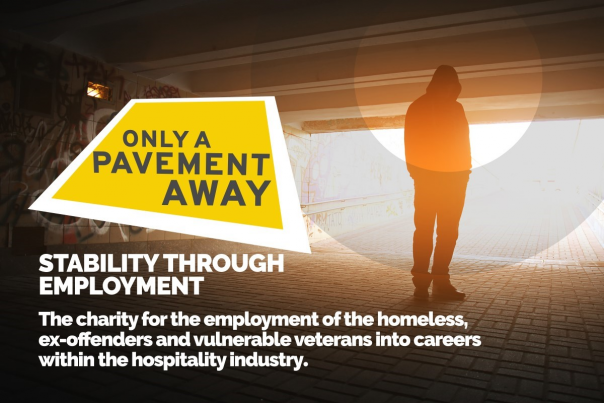 Abstract
Hospitality charity Only A Pavement Away (OAPA) announced it has distributed donations worth over £500,000 through its Hospitality Against Homelessness campaign.
Fundraising highlights include Tom Aikens Charity Cookery Challenge, a partnership with Bums on Seats and the launch of the UK's first charity jobs board geared towards the hospitality sector.
Aikens Charity Cookery Challenge involved people sharing a video of them cooking a five-minute meal on social media while donating £5 to the charity and nominating five of their friends to do the same. A new cookbook featuring 180 recipes will be launched in November 2020.
Aikens said: "Since collaborating with Only A Pavement Away at the start of the lockdown period, it has been brilliant to watch the Charity Cookery Challenge evolve and see just how popular it has become with both industry figures and the wider public.
"I am delighted that we have so far raised over £5,000 and I can't wait for the finished cookbook to go on sale in the coming months. Our industry has taken a real hit this year and every penny that we raise makes a huge difference to the lives of every hospitality worker who has been struggling at this time."
Due to his support of the charity Aikens was announced as an official ambassador of OAPA and it was also confirmed he will attend the Cook and Dine 2021 event.
Greg Mangham, founder of OAPA, added: "It has been incredible to see the Hospitality Against Homelessness campaign and Tom Aikens Charity Cookery Challenge gain so much traction and foster such a strong sense of community across the UK.
"Since launching Hospitality Against Homelessness back in April we have been overwhelmed by the number of donations we have received from our friends at the likes of the Athenaeum Hotel, Thomas Franks, Yummy Pub Co., Mandarin Oriental & Pasta Remoli which have numbered over £500k and helped to feed hundreds of individuals who were falling into destitution across London."
OAPA was established in October 2018 to help those living on the streets, ex-offenders and vulnerable veterans find employment in the hospitality industry.