29th Jun 2020 - 07:50
Image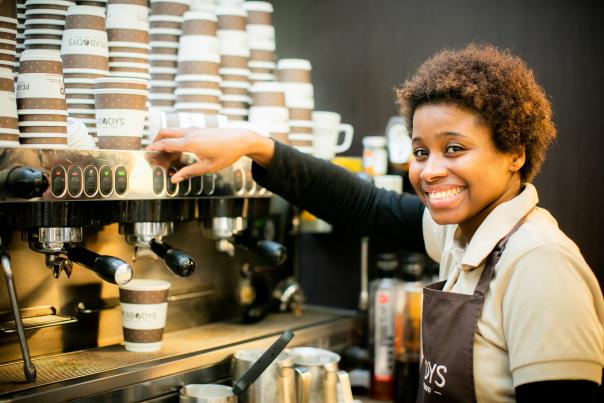 Abstract
Peabodys Coffee shops, which stayed open seven days a week at St George's Hospital, London serving staff and providing free meals, during the lockdown is looking to open at other NHS sites.
Director of Peabodys Coffee, Claudia Mascino says: "I'm so proud of what we've achieved during the crisis, especially as all our team have been working hard to maintain our usual friendly, warm, inviting feel – which has been largely down to the wonderful relationships that our staff have with their customers and our genuine and authentic commitment to playing our part in the life of St George's Hospital, both before and during the crisis.
"We run an impressive array of artisan coffee shops that have been serving organic Fairtrade coffee and freshly prepared food for over 20 years. The company has been working extremely hard during the current crisis, and in conjunction with our rock-solid business continuity plans, we have been very fast to implement clear social distancing, perspex screens, hand gel, notices, staff training on PPE and hand washing protocols.
"As lockdown starts to ease, we are currently offering our unique Peabodys services to other NHS trusts and hospitals currently looking to replace their existing facilities, giving their customers homemade food that's natural, healthy as well as cost-effective."
As coffee shops in the UK closed, Peabodys has not only remained operating to serve staff at the Tooting hospital, but has also helped the hospital canteen by supporting the free meals for NHS staff campaign by working hard to secure donations through suppliers to provide 1,000 free fresh pasta meals and 1,500 bags of crisps. Peabodys also donated 700 gift bags with sandwiches, wraps, ciabattas, pastries, fruit salads and water bottles for night shift staff.
Jenny Higham, principal of St George's University of London, adds: "We are so pleased that Peabodys has continued its friendly service throughout this very difficult period. A little comfort in such peculiar times."
Peabodys Coffee is a strong independent provider of quality food and beverages within healthcare environments. It started its extraordinary journey in 1997 serving gourmet coffee and freshly prepared food within hospitals in London. The brand quickly gained a reputation as a strong independent provider of quality food and beverages within healthcare environments, serving organic Fairtrade coffee and a wide range of freshly made hot and cold food with the focus on attention to detail and a desire to serve customers something natural, fresh and healthy at a cost effective price.
A focus on sustainability sets Peabodys aside from its competition. The company is currently working very hard to cut out all plastic from their shops, reduce food waste to zero, and use more organic ingredients. They are proud to offer a Fairtrade, homemade, in-house range, with a good variety.
Peabodys runs coffee shops at 6 sites at the St George's Hospital Tooting and one highstreet location in Holborn. They have the right staff in place, working closely with NHS trusts and are both experienced and knowledgeable in current NHS guidelines inside the healthcare sector including the sugar tax and CQUIN guidelines. The company also has a reputation for being able to react quickly and are flexible, willing and able to adapt; fitting in with the goals for all hospitals and trusts.
For more information visit www.peabodysgroup.co.uk