11th Oct 2021 - 07:00
Image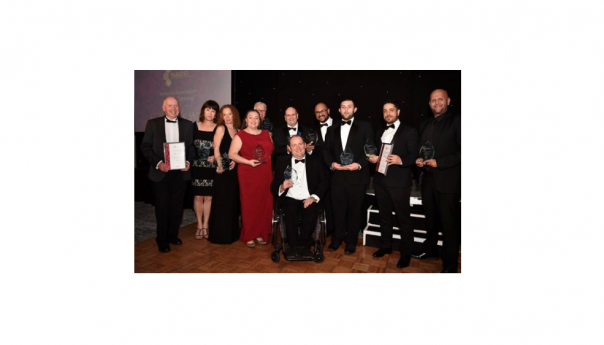 Abstract
Andy Jones, chair of the PSC100 Group, won the NACC National Chair's award for his work within the public sector catering industry.
For many years Andy has shared his knowledge and expertise of the wider range of healthcare services. He is a well-respected character, loved and admired by so many for his dedication to the importance of catering for good nutrition and hydration, and the importance of having access to good British Food.
The National Association of Care Catering (NACC) gathered in Nottingham to celebrate the great and the good of care catering at the 2021 NACC Awards. The awards 'shine a spotlight' on the individuals and teams who have made an 'outstanding contribution' to care catering over the past 12 months.
Sue Cawthray, national chair of the NACC, said: "What a tremendous evening! A very big congratulations to all the NACC Awards 2021 winners. It was a real privilege to recognise the extraordinary contributions so many have made to care catering and joyful to be able to present our worthy winners with their awards in person. 
"As well as honouring our winners, the evening was a real celebration of the care catering sector. The shortlists were inspiring, and we can all agree that this year's finalists and winners are a true reflection of everyone in our sector who has and continues to work so tirelessly, selflessly and innovatively as the challenges of the pandemic, and other factors such as Brexit, staff shortages and supply chain, have continued to unfold. I could not be prouder to be part of the amazing care catering sector."
The NACC award winners included:
The Triumph Over Adversity Award, sponsored by Bullseye Food Packaging: Anwar Kajee, Head of Hospitality, Country Court
Care Establishment of the Year Award, sponsored by Hobart: Long Close Retirement Home
Meals on Wheels Award, sponsored by apetito: The Bevy Community Pub
Catering Team of the Year Award, sponsored by e-f group: Care UK Residential Care Services
Catering Manager of the Year Award, sponsored by Unilever Food Solutions: Rida Diab, Chef Manager, Royal Star & Garter – Surbiton
Our Care Catering Hero Award, sponsored by Premier Foods: Adriano Carvalho, Dining Service Coordinator, Sunrise of Sonning, Sunrise Senior Living and Luke Webb, Second Chef, Mill House Care & Dementia Home (joint winners)
Region of the Year Award, sponsored by Meiko: South West Region
Pam Rhodes Outstanding Achievement Award, sponsored by Anglia Crown: Sophie Murray, Head of Nutrition and Hydration, Sunrise Senior Living
National Chair's Award: Andy Jones
For more information about NACC Awards 2021 visit: www.thenacc.co.uk.