17th Oct 2023 - 07:00
Image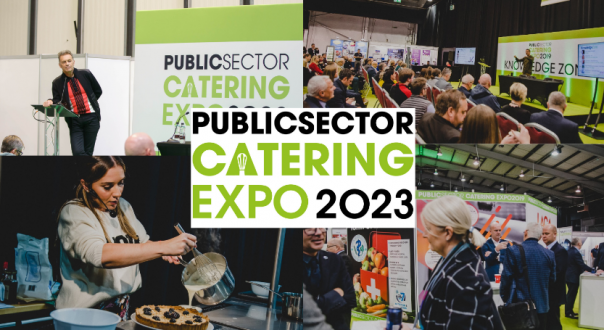 Abstract
This year's Public Sector Catering Expo, taking place in a fortnight at NAEC Stoneleigh in Warwickshire, will bring together caterers from across the four nations who help to feed the nation healthy, nutritious and sustainable food.
This year's event will include an exhibition of more than 100 suppliers as well as a lively speaker programme including Tim Spector and Gregg Wallace. And this will all be running alongside the sights, sounds, smells and tastes of the UK's leading military catering event – Exercise Joint Caterer.
The Expo is free-to-attend for those working within a public sector catering environment, visit the webpage to find out how to register: www.pscexpo.co.uk.
The Expo sets out to address areas of common concern shared among caterers in the public sector – from working to tight budgets, to nutritional regulation, sustainable menus, recruitment and retention, training, mental health and allergens – as well as tapping into the latest key catering trends.
Tom Bradshaw, deputy president of the National Farmers Union (NFU), will welcome attendees to NAEC Stoneleigh when speaks on the first day about 'building a resilient and sustainable food system together'.
Produced in collaboration with Simon Stenning, founder of Future Foodservice, Public Sector Catering magazine will use the Expo as the opportunity to launch a report that is the first of its kind to provide a comprehensive current state-of-the-market overview together with forecasts of how public sector catering will develop over the next three to five years.
Featuring key economic forecasts and a detailed look at changing customer behaviour, trends and attitudes, the full report aims to provide unique insight into what is shaping the future of the public sector catering industry.
Also on the programme, representatives from the industry's key associations will form a 'State of the Nation' panel on day two to discuss the issues and challenges facing catering teams across the industry.
Current LACA School Chef of the Year (SCOTY) Raheem Morgan, together with former SCOTY winner Kath Breckon and a current NACC Care Chef of the Year winner Brian Preston will be doing cooking demonstrations.
These Public Sector Catering Kitchen sessions offer the chefs the chance to showcase the incredible skills that exist across the sector, with a particular focus on health and nutrition delivered as tasty food on a budget.
The event is being supported by the key industry associations representing the public sector catering industry – LACA, the NACC, the HCA, TUCO, ASSIST FM, and PACE - all of whom will be available over the two days for visitors to talk to so they can find out more about the work they do and the potential benefits of working within the sector.
Register for FREE here, if you work in a public sector catering environment.