16th Oct 2019 - 08:14
Image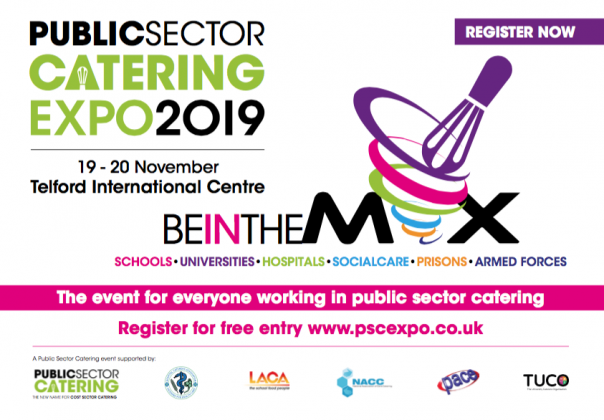 Abstract
The Public Sector Catering Expo, on 19-20 November 2019 at the Telford International Centre, will feature keynote addresses from Hugh Fearnley-Whittingstall and Prue Leith.
On Tuesday 19 November at 11am, Fearnley-Whittingstall will discuss issues in the public sector catering industry including plastic and food waste, and health, nutrition and obesity, as well as local sourcing and provenance.

Leith will present her keynote address on Wednesday 20 November at 11am, The Great British Bake Off judge recently joined the hospital food improvement review team, which aims to increase the quality of patient food in hospitals.
The Expo is a brand new event that brings together buyers, influencers and decision makers across the entire industry and also includes an exhibition of over 100 suppliers in an exhibition running alongside the main event.
It is free-to-attend and will provide a seminar programme and live demonstrations, along with the chance to network with industry colleagues.
The Expo events will address the areas of common concern that the public sector shares – working to tight budgets, nutritional regulation, recruitment and retention, training, and mental health and allergens – as well as tapping into key catering trends such as meat-free diets.
There will be a SHARE ZONE offering an interactive demonstration area showcasing the skills of caterers from across all areas of the public sector. This will include Candice Brown, ambassador for British Food Fortnight and winner of the seventh series of The Great British Bake Off, and a serious look at how you might include insect options on your menu from The Bug Farm.
The KNOWLEDGE ZONE will provide a programme of presentations from leading experts and commentators from across the sector, who will discuss the key issues facing public sector caterers. Here you can catch Charlie Huson from Humane Society International, who will be talking about future-based foods and plant-based diets. Plus, Amy Fetzer from WRAP will discuss food and plastic waste, and why the public sector must lead the way in cutting back on both.
Across the two-day event you can see a series of live presentations from a host of chefs working within schools, universities, hospitals, care homes and more.
The programme and features have been developed to engage with the sector at all levels from chief executives, through to unit catering managers and chefs.
The event is supported by the key industry associations representing the public sector catering industry and will include a central MEET ZONE where visitors can talk with the associations and find out more about the work they do in the industry and the benefits of working with them. 
For more information and to register for free entry visit: http://pscexpo.co.uk