25th Nov 2021 - 06:00
Image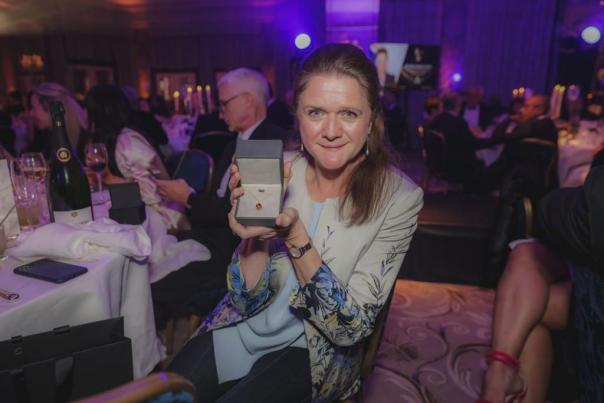 Abstract
Kate Nicholls OBE, chief executive of UKHospitality, was awarded The Restaurant Association Award for Special Services to Hospitality at the RA Gala Dinner.
The Gala Dinner, which was co-hosted by UKHospitality and The Nth Degree Global, took place at The Dorchester on Monday 22 November and raised £29,104 for industry charity Hospitality Action.
Celebrating Excellence in Food & Wine Service the prestigious event was hosted by President of the Restaurant Association & Nth Degree founder, Robert Walton MBE. At the event Nicholls was presented with a Fabergé Heritage Yelagin Rose Gold Diamond & Red Guilloché Enamel Petite Egg Pendant.
She said: "It has been my absolute honour and privilege to be your face and voice through the last 18 months. It has been the most difficult time for the hospitality industry but it is the passion and hard work that has pulled us through. Your dedication to looking after your teams and your communities has been inspiring.
"The hospitality industry has always helped those in their darkest hour by putting their hands in their pockets to house the homeless, to feed the NHS, hospitality heroes and looking after all of us.
"The hospitality industry is now bringing back the life and light to all town centres, high streets and communities. The Fabergé egg is very fitting because they are a symbol of new life. We are at the point where we are turning a corner and we can look forward to a renaissance in the hospitality industry."
Top chefs and hospitality leaders attended the event alongside other VIP guests including Brian Turner CBE, Adam Handling, Chris Galvin and Cyrus Todiwala OBE.
The menu was designed especially by the Dorchester Hotel's top chefs and included Seabream tartar with NEFT Vodka, radish & mushroom tea; Cornish seafood ravioli, chervil root, bronze fennel & blue lobster bisque; Dry aged Angus beef, potimarron, truffle mushroom & Oldenburg red wine jus; and Chocolate, hazelnut praline & yuzu.
Walton added: "Tonight's Gala is once again a key event to celebrate the achievements and amazing successes of our industry. The UK Hospitality business are the creators for new hospitality experiences, we 'See Things Differently' that's why we are the world leaders and innovators in this space.
"The UK has the best produce in the world and that's why I am so proud that I can play a key role in promoting our hospitality sector of which London is recognised as the hospitality capital of the world. Thank you again for your support."