20th May 2021 - 08:14
Image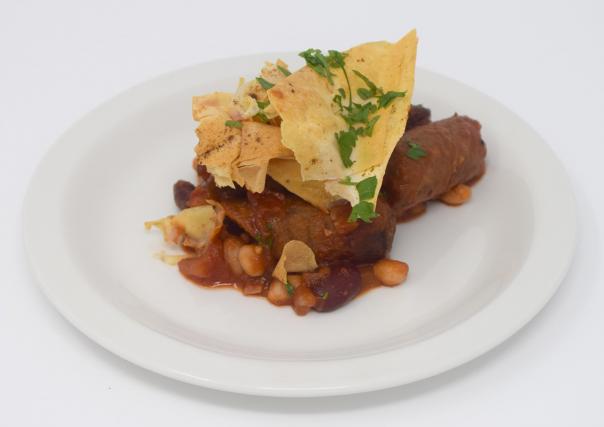 Abstract
Crisp baked (GC) Sausage cut into round chunks with a smokey tomato sauce, Haricot & Red Kidney beans and pieces of roasted butternut squash. Topped with "ruffled" filo pastry baked until crisp & golden. Served with wedges of cucumber & pepper.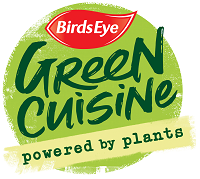 Ingredients
2 x Pkts of Green Cuisine Meat-Free Sausages
• 200g Diced Onion
• 2x Minced Garlic Cloves
• Half a sachet of "Tex Mex" flavour i.e. Chilli Spice / Fajita Spice – to deliver the depth of BBQ back flavour
• 1 x Squash – Peeled De-Seeded Butternut Squash / cut into approx 1" dice
• 1 x litre of Tomato Passata
• 1 x tin Chopped Tomatoes
• 3 x tins Red Kidney Beans
• 3 x tins Haricot Beans
• 1 x Cup measure of BBQ Sauce
• Approx half a 220g pkt of Filo Pastry
• 30g Olive Oil (for cooking the onion, roasting the squash and brushing the filo pastry)
Preparation method
Pre-heat oven to 185°C / Roast
Place the diced Butternut Squash onto a shallow (25mm) gastro tray and coat the dice with 10g of the olive oil – place into the oven and roast for 15 minutes whilst you begin working on the bean based sauce for the dish.
Once the Squash is roasted set aside until required a little later in the recipe.
Place approx 10g of Olive oil into a pan and warm, add the diced onion and stir until the onion begins to soften, then add the minced/ pureed garlic and stir until the garlic is lightly fried into the onion.
Add the half sachet of the "Tex Mex" spice and cook until it's mixed through the onion & garlic mix. This will be very aromatic.
Place the Green Cuisine Meat-Free Sausages into the oven and cook for 12 minutes – once cooked cool slightly then cut up into 1 inch pieces.
Mix in the tomato puree to the onion and Tex Mex mix and cook out for 3-4 minutes and once this is cooked down add the BBQ sauce, the chopped tomatoes and the passata, and bring to a simmer.
Once simmering for 5 minutes, add the drained beans & bring back to a simmer, then transfer to a gastro tray, drop in the chopped Green Cuisine sausages and the roasted diced squash pieces, and lightly stir.
To top with Filo Pastry
Open the pastry packet and lay two pieces side by side and brush lightly with the remaining olive oil and dust with a pinch of the "Tex Mex" mild spice then place two more pieces of filo on top and finally very sparingly brush with a little more olive oil.
Then take these "layered" filo rectangles and lightly "scrunch" them and drop on to cover the bean, squash & sausage mix in the Gastro tray and place into the hot oven for 5/7 minutes approx 185°C.
When the pastry is golden brown and crisp take out and serve.