16th Mar 2022 - 08:04
Image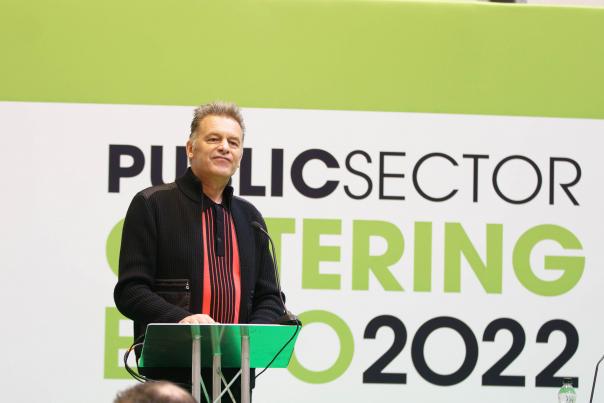 Abstract
Wildlife presenter and vegan Chris Packham kicked off the Public Sector Catering Expo with a keynote session that looked at the impact of climate change on the environment, wildlife and the food system.
Packham claimed 'we are in deep, deep trouble' when it comes to climate change and biodiversity loss. He suggested that changing menus, sourcing more locally and educating customers can contribute to achieving the global goals of reducing climate change.
He said: "We are one species, on one planet with one last chance to sort it out." He also noted that humans throughout history have been good at 'curing problems' but not so good at prevention.
He added that humans in general are reluctant to change their everyday lives and traditions, but stressed the importance of people 'needing to entertain a transition' to a more sustainable food system.
He told attendees the 'writing is on the wall' that people need to be eating less meat. Almost two years ago, the PSC100 Group launched the '20% Less But Better Meat' campaign to encourage caterers to reduce their greenhouse gas emissions and to champion a healthier national diet.
Day 2 of the Public Sector Catering Expo continues today with Dr Rupy Aujla hosting Public Sector Catering Kitchen. These sessions aim to showcase the incredible skills of chefs across the public sector, focusing particularly on health and nutrition but also on delivering tasty food on a budget.
The demonstration line-up includes:
Rob Chambers, School Chef of the Year 2021
Varun Shivdasani, Loughborough University
Kevin Carron and Helen McDonough, HM Prison Service
Sanish Thomas & Sinto Mulavarickal, NHS Chefs of the Year
Aaron Watson, Care Chef of the Year
Also on day 2 of the PSC Expo the final results of Exercise Joint Caterer (EJC) will be announced.