20th Oct 2021 - 07:00
Image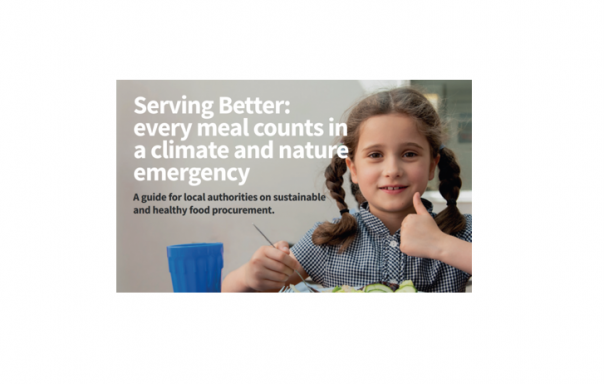 Abstract
The Eating Better alliance has released a new guide and film for local authorities on how to put sustainable food at the heart of plans to tackle the climate, nature and public health crises.
The 'Serving Better' guide encourages school caterers to serve more vegetables, plant proteins and serve 'less and better' meat and dairy.
Elena Salazar, policy and knowledge manager at Eating Better, said: "We cannot tackle the climate and nature emergencies and secure a future for next generations, if we don't tackle food.
"Local authorities can drastically reduce the carbon footprint of meals under council control, if they put food at the centre of their sustainability plans: with the challenges we face, every meal counts."
'Serving Better' details how local areas and public sector organisations can take bold and urgent action to shift to serving more sustainable food.
With a focus on the role of meat and dairy, the 'Serving Better' guide inspires and encourages local authorities to commit to deliver:
25% reduction in the volume of meat and dairy served in council-controlled settings by 2025.
25% of meat and dairy served meets 'better' animal welfare and environmental standards by 2025.  
Reducing meat and dairy consumption will help reduce the greenhouse gas emissions' footprint of our diet. According to Steenson & Buttriss (2021) research if everyone in the UK adopted a diet in line with the Eatwell Guide, it's estimated dietary emissions would fall by 45%, water use by 4% and land use by 49%.
Reactions to the report include:
Kristin Bash, chair of food special interest group (SIG), Faculty of Public Health: "We must reduce the carbon footprint of our food to successfully address the climate crisis, and we need to eat better as a population to improve our health and wellbeing."
Anna Taylor OBE, executive director at The Food Foundation: "Local authorities serve millions of children and adults every day, and Eating Better's guide offers a useful practical toolkit for local authorities who want to change their sourcing for the better."
Stephanie Slater, chief executive and founder at School Food Matters: "If we are committed to taking steps on climate change, tackling food procurement is the way to go."
David E Edwards, director of food strategy at WWF-UK: "Local authorities have a key role in addressing this by procuring and serving healthy and sustainable food, supported by UK government coming forward with an ambitious Food White Paper in the new year. This guide will help local authorities play their part in tackling the climate and nature crises."
Kath Dalmeny, chief executive of the Sustain alliance: "This is a fantastic how-to guide and we're looking forward to it becoming a core part of our work with local food partnerships across the UK through the new Food for the Planet campaign."