23rd Nov 2020 - 11:04
Image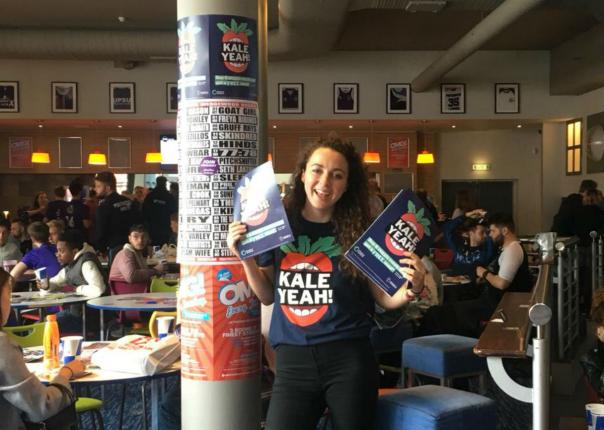 Abstract
Environmental campaign group Friends of the Earth (FoE) is launching a nationwide sustainability scheme called Kale Yeah! to help caterers fight the climate crisis by serving less meat, fish and dairy, and more plant-based dishes.
Kale Yeah! resources are designed to help chefs meet and exceed meat reduction targets, including the Eating Better Alliance's 50% by 2030 and the PSC100 Group's '20% Less But Better Meat' campaign, which has been adopted by all the major public sector catering organisations and encourages universities, hospitals, schools, and care homes to play their part in reducing emissions by serving up healthy, planet-friendly menus.
Clare Oxborrow, FoE's food campaigner, said the production of meat and dairy products, particularly in intensive systems, was a huge source of 'climate-wrecking' emissions and caused 'massive damage' to nature.
"Enabling people to eat more plant-based foods and less and better meat and dairy must form a key element of stopping further climate and nature breakdown," she said.
Called Kale Yeah!, the scheme encourages three steps:
•    Rebalance menus to shift the focus away from animal products
•    Incentivise plant-based eating
•    Promote healthy and sustainable options all year round

Kale Yeah! resources offer a range of ideas and inspiration for caterers to use and adapt for their setting.
Resources include information on plant-based ingredients and meat alternatives, cookery tips and tricks and advice on menu design and promotion.
There is also a rebalanced menu guide to illustrate how adapting a menu and recipes in different ways can reduce the meat, fish or dairy content by between 28% and 56%.
Suggestions in the guide include swapping beef for beans, using less lamb and more lentils, blending mushrooms into burgers, and a guide to launching a loyalty card, with learnings from a pilot scheme carried out at the University of Portsmouth.
Friends of the Earth is initially promoting Kale Yeah! among university caterers because of the already strong demand among students for healthy food that doesn't harm the planet.
However, Oxborrow said the scheme could be used by any catering setting, including schools, workplaces and conferences.
She said that Friends of the Earth was also encouraging caterers to source the meat, fish and dairy still on the menu from higher welfare and more planet-friendly sources.
"This means free-range, organic and pasture-fed instead of intensively farmed, enabling caterers to support UK farmers using nature-friendly production methods.
"Reducing the amount of meat and dairy eaten and produced is critical in the fight against climate and nature breakdown. There is also huge demand from students for food that tastes good and does good.
"Kale Yeah! shows caterers how easy it is to create exciting menus with less and better meat and dairy, and more veg, pulses and other tasty plant alternatives, whilst still providing delicious dishes and customer choice.
"Through Kale Yeah! we want to work with caterers to move meat from playing the starring role on menus to being more of a side show. This shift will be great news for the planet, animal welfare, and our health".
Jamie Agombar, executive director at Students Organising for Sustainability UK, said: "There is an urgent need to drastically increase the plant-based catering options on campuses and to ensure any meat that is sold is not from industrial farms.
"The Kale Yeah Caterers' Toolkit and Menu Guide are excellent resources that will make this transition so much easier for those responsible for menus and food procurement."
For more information about Kale Yeah! visit: https://campaigning.friendsoftheearth.uk/kale-yeah/kale-yeah-caterers-sustainability-scheme