20th May 2022 - 07:00
Image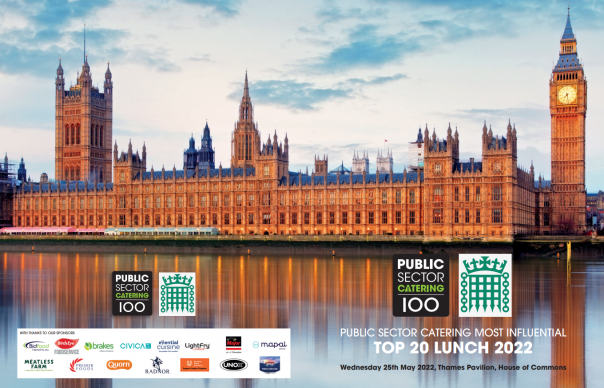 Abstract
Public Sector Catering will host a round-table debate and lunch at the House of Commons with the Top 20 'Most Influential' in public sector catering on Wednesday 25 May 2022.
Every year Public Sector Catering Magazine highlights 20 individuals who they believe deserve to be recognised as the most influential in the public sector catering industry. David Foad, editor of PSC magazine says of the 2021 intake: "Who are the people who are really shaping and driving the agenda in schools, hospitals, social care, universities, prisons and the military?
"It's a question we've been asking since we convened a independent panel of judges to draw up the first Top 20 'most influential' people in public sector catering in 2008. We're still following the same formula and here is this year's list - the order in which they appear is purely random and does not imply any sort of ranking."
The 2021 Public Sector Catering 'Most Influential' include:
Jacquie Blake, chair, LACA
Molly Shaher, chair, PACE
Phil Rees-Jones, chair, TUCO
Jayne Jones, chair, ASSIST FM
Andy Jones, chair, PSC100 Group
Sue Cawthray, chair, NACC
Brian Robb, chair, HCA
Phil Shelley, senior operational & policy manager, NHS Estates and Facilities
Stuart Roberts, deputy president, NFU
Lindsay Graham, poverty & inequality commissioner, Scotland
Andy Kemp, public sector 'champion', Bidfood
David Oliver, head of catering HMPS
Sean Haley, chair Sodexo UK & Ireland
Sharon Hodgson MP
Paul O'Brien, chief executive, APSE
Eleanor Morris, special adviser Hospitality and Food Service, WRAP
Robin Mills, MD Compass UK & Ireland
Simon Billing, chief executive, Eating Better alliance
Dr Susan Jebb, chair, Food Standards Agency
Pete Ritchie, executive director Nourish Scotland
The Top 20 'Most Influential' in public sector catering will enjoy a lunch organised by Mark Hill OBE, executive chef at the House of Commons. The Top 20 will also be involved in a round-table debate discussing problems and solutions to some of the issues affecting the public sector catering industry. The topics they will discuss include food insecurity, employment issues and the rising inflation.
Other guests in attendance will include:
Cathy Amos, Brakes
Andrew Archer, Dewberry Redpoint
Claire Atkins-Morris, Sodexo UK & Ireland
Howard Beasley, Essential Cuisine
Scott Brown, Civica
David Foad, Dewberry Redpoint
Emmanual Grelaud, Mapal Group
Maria Herron, APPG School Food
Ellie Janes, Quorn
Martin Mosley, Youngs Seafood
Gerard Purnell, Birds Eye
Lisa Richards, Unilever
Sarah Robb, Premier Foods
Ben Ross, Unox
Philip Sanderson, Valentine/ Cuisinequip
Paul Saunders, Major Int
Rebecca Saunders, Dewberry Redpoint
Nigel Shepherd, Defence Food
Gavin Squires, Bidfood
A full write up will be included in the June issue of Public Sector Catering magazine.