14th May 2021 - 07:00
Image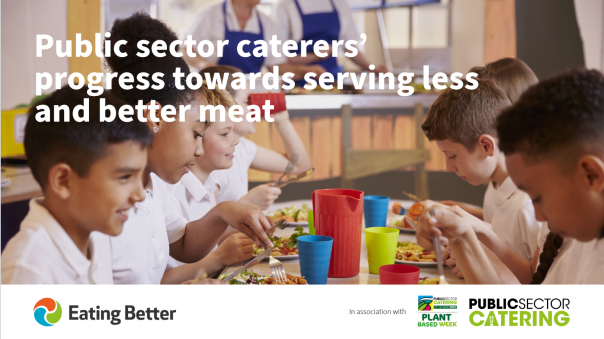 Abstract
New research by the PSC100 Group and the Eating Better alliance has found the strongest support yet for the campaign among public sector caterers to serve more vegetables and fruit alongside better quality meat at reduced volumes.
The research, timed to coincide with Public Sector Catering magazine's Plant-Based Week (May 17-21), highlights that concerns about climate change, nature loss, and individual health are the key drivers of change across public sector menus.
The results reflect the momentum building behind meat reduction across the public sector and support the PSC100 initiative, launched just over a year ago, to reduce meat served by 20%, focus on making the meat served British and better quality, and increase vegetable consumption. The survey gives a snapshot of the progress towards and beyond that target. 
Four out of five of those who took part in the survey said they were shifting to sustainable menus, serving less meat, while a similar number said they had increased the amount of plant proteins they serve by 20%.
Other highlights include:
•    80% of those polled have committed to reducing meat content across menus
•    83% have increased plant proteins (beans and lentils) in dishes by up to 20%, while 60% have been using more meat substitutes
•    51% said demand for red meat had dropped by up to a fifth and 60% said there had been reductions in both pork and processed meat
•    More than 20% are using more chicken in dishes
•    60% would like to buy better meat and dairy, produced to higher animal welfare and environmental standards, but often the cost is a barrier to change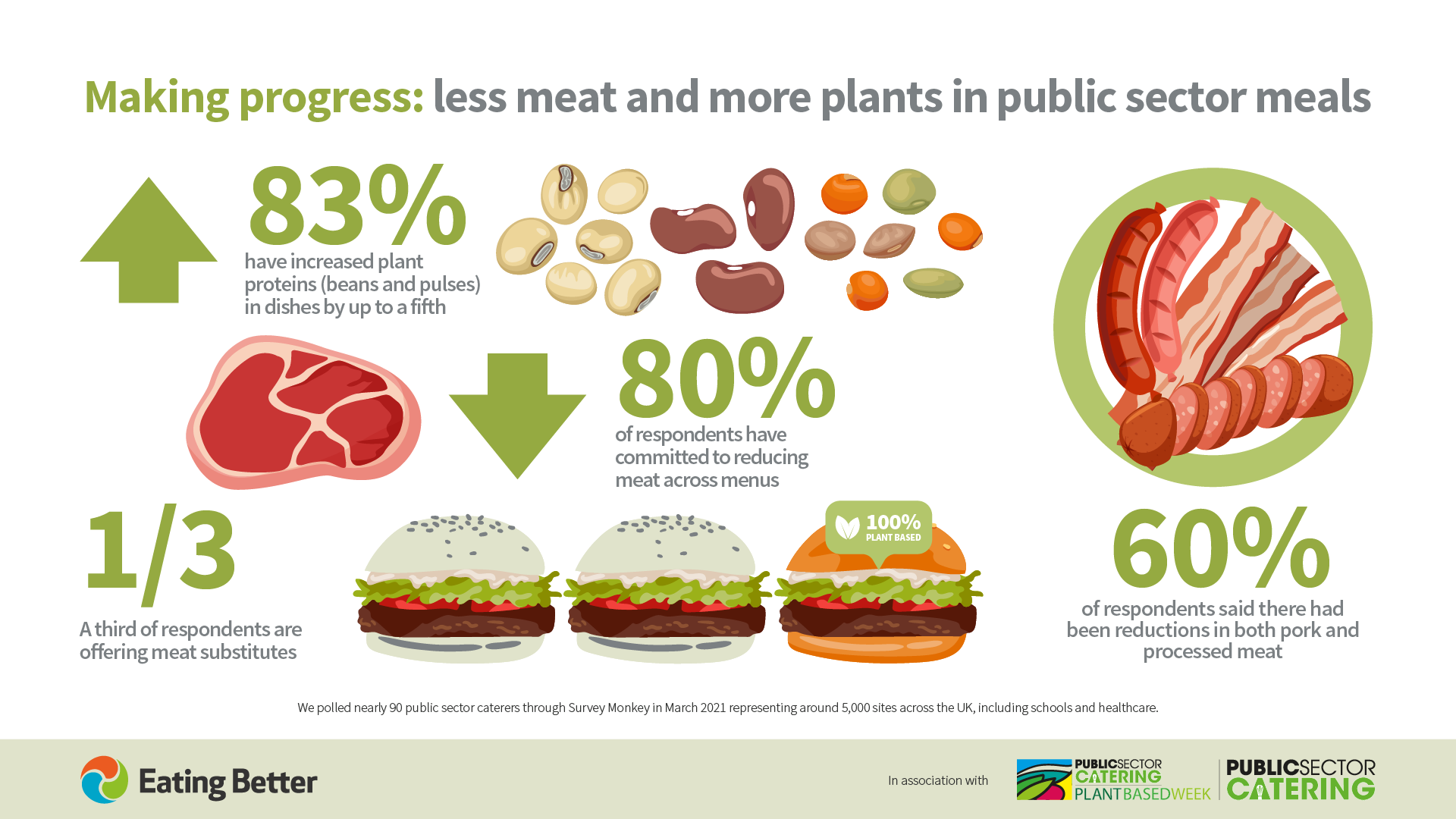 Simon Billing, executive director of Eating Better, an alliance of over 60 leading NGOs, said: "What we feed our children to nourish them while they learn, or to help patients recovering in hospital, really matters.
"The public sector must take the lead on eating better and our survey shows they're making good progress in serving climate and nature friendly food, with less red and processed meat and more veg, already on menus."
And restaurateur, celebrity chef, presenter and vice president of the Sustainable Restaurant Association (SRA), Prue Leith, who recently lead a review into hospital food, commented: "Improving the nation's health and our sustainability has never been more important.
"The food we serve in our hospitals, schools and other public institutions should contribute to health and sustainability – and be a pleasure too."
Eating Better and PSC100 Group, the collaborative initiative representing catering organisations working across schools, hospitals, universities, the care sector as well as prisons, catering colleges and the MoD, surveyed around 90 caterers, representing 5,000 sites across the UK.
And Andy Jones, chair of the PSC100 Group, added: "The public sector is the guardian of the nation's health and this report shows it's listening to customer and staff concerns about climate, wellbeing and creating a more sustainable food chain.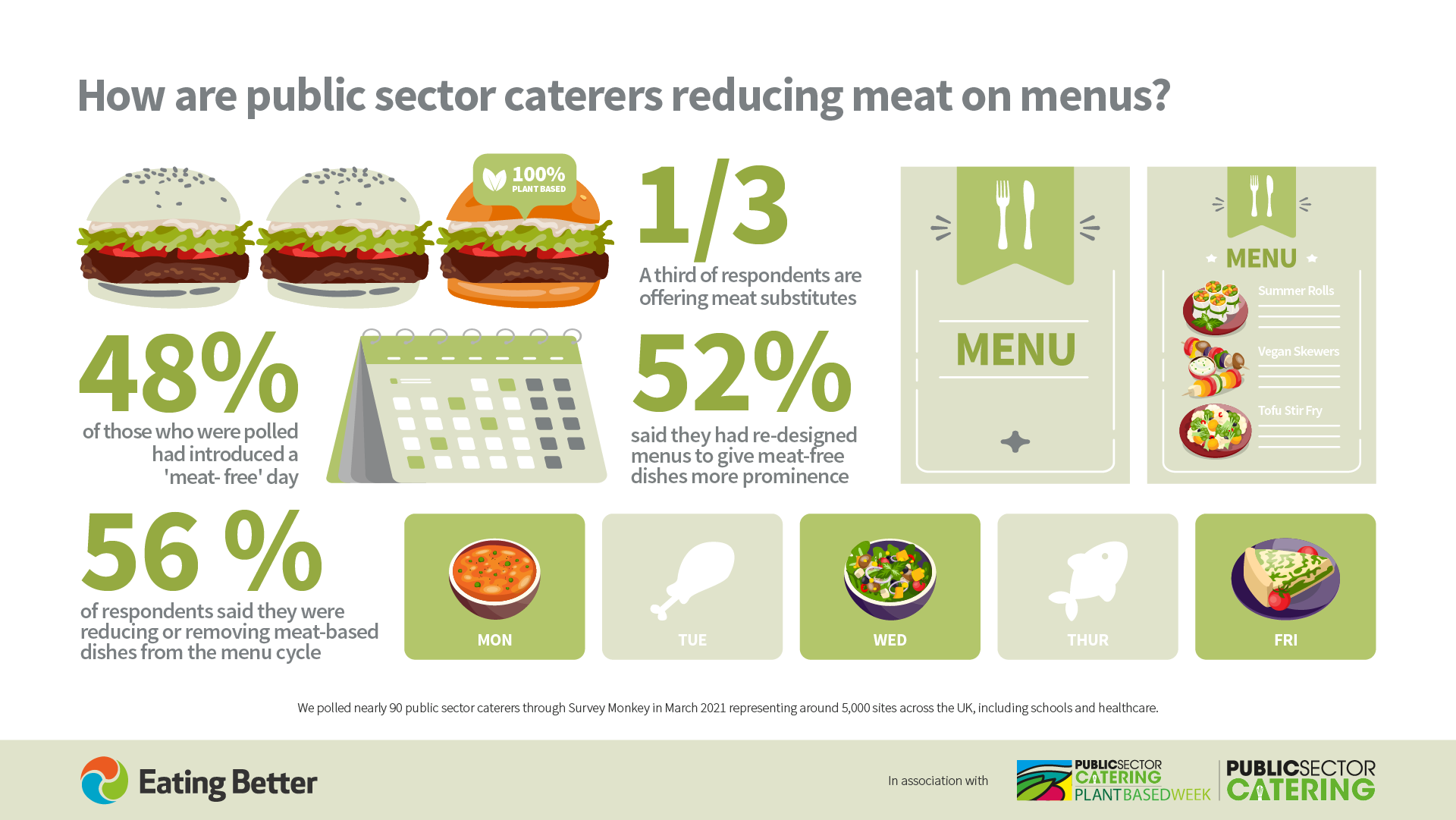 "The pandemic and Brexit has changed people's perceptions and they want us to procure the best of British produce, first.
"We are working closely with the industry to develop menus which show our commitment to increasing plant-based meals while using less, but better quality, meat, produced to higher animal welfare and environmental standards."
TV personality, chef and author of 'The Doctor's Kitchen', Dr Rupy Aujla, who is providing the keynote interview on May 19th during Plant Based Week, said: "I'm delighted that public sector caterers are so focused on promoting plant based meals. The nation's health and the planet will both benefit in the long term.
"Serving children in schools, patients in hospitals, inmates in prisons and everyone eating in a public sector environment with a more plant-based diet, is a real positive for the nation's health."
Read the full survey report here