15th May 2023 - 07:00
Image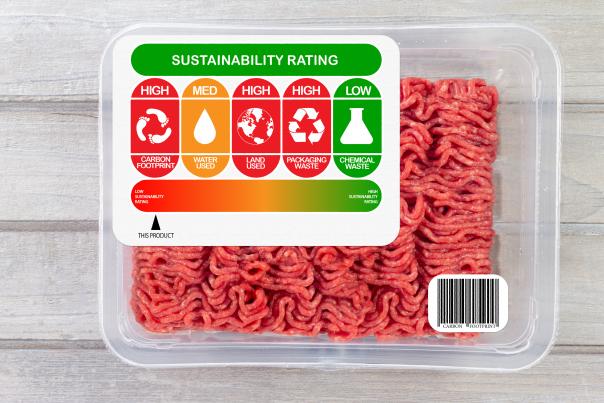 Abstract
A new survey, commissioned from YouGov by the Vegetarian Society, has found that over half of young adults agree they would choose to eat more sustainably if carbon footprint labelling was included on food packaging.
With the Government committed to reducing UK greenhouse gas emissions by almost 80% by 2035, these findings suggest that carbon footprint labelling could play a 'key role' in reducing the consumption of higher carbon foods such as beef and lamb.
According to the survey over one in three adults (37%) aged 55-year-old agreed they would also choose to eat more sustainably if given more information on menus.
Richard McIlwain, chief executive of the Vegetarian Society, said: "Carbon footprint labelling could be a game changer in the fight against climate change and it is heartening to see that so many young people are eager to make sustainable choices.
"We are therefore calling on Government and food manufacturers to act urgently in rolling out clear carbon labelling on food packaging. And the survey could not be more timely, coinciding as it does with this year's National Vegetarian Week (15-21 May), with thousands of people across the UK signing up to try great tasting, low carbon veggie and plant-based foods."
Last year, the National Vegetarian Week campaign inspired people to switch over 70,000 meat-based meals for veggie and plant-based dishes, saving over 100 tons of carbon.
Coinciding with National Vegetarian Week is Public Sector Catering's third Plant-Based Week (15-19 May) which aims to celebrate individuals, teams and organisations who encourage and inspire others to consume more plant-based food, which is better for their health, the environment and the planet.
Each day will have a different focus, looking at the benefits of a plant-based diet, at the people who provide amazing menus and at how using plant-based dishes can save caterers money.