11th May 2021 - 08:21
Image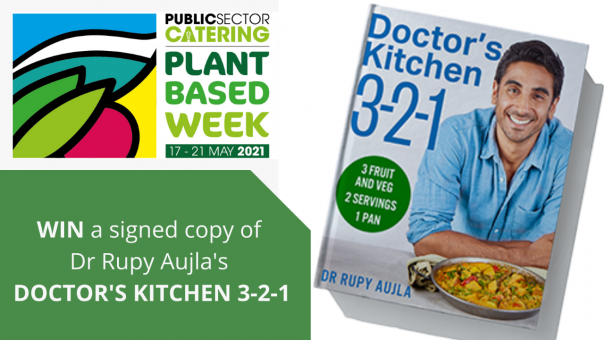 Abstract
To celebrate Plant-Based Week, which is taking place from 17-21 May 2021, Public Sector Catering will be giving away five signed copies of a Dr Rupy Aujla's Doctor's Kitchen 3-2-1.
To be in with a chance of winning a cookbook all you have to do is register for any (or all!) of the PBW demonstrations or register for the webinar interview with Dr Rupy.
Each recipe in the cookbook is formulated to contain three portions of fruit and vegetables per person, serving two people and all made in one pan.
Dr Rupy Aujla, a GP, author and TV personality, believes that the growing interest in plant-based foods is beneficial to our health and helps the planet too.
In the introduction to the book he said: "3-2-1 is my formula to produce incredible meals that taste spectacular, ensure health benefits to optimise and maintain your wellbeing and streamline the cooking process so you can achieve healthy meals evert single day.
"I know it sounds too good to be true, but I guarantee that this book will revolutionise the way you cook at home forever. It will become your go-to book for quick, no fuss, wonderful food, which offers multiple benefits to your health."
PBW demonstrations:
As well as our series of demonstrations, on Wednesday 19th May, we will hosting our Plant-Based Week webinar session where we will be joined by Dr Rupy Aujla. The keynote interview will be followed by a panel debate on - The future of plant-based meals in the public sector.
The panel includes Dr Rupy and:
Simon Billing, executive director, Eating Better Alliance
Andy Jones, chair, PSC100 Group
Alexia Robinson, chief executive, Love British Food
Nick Vadis, culinary director, Compass Group UK